Main content starts here, tab to start navigating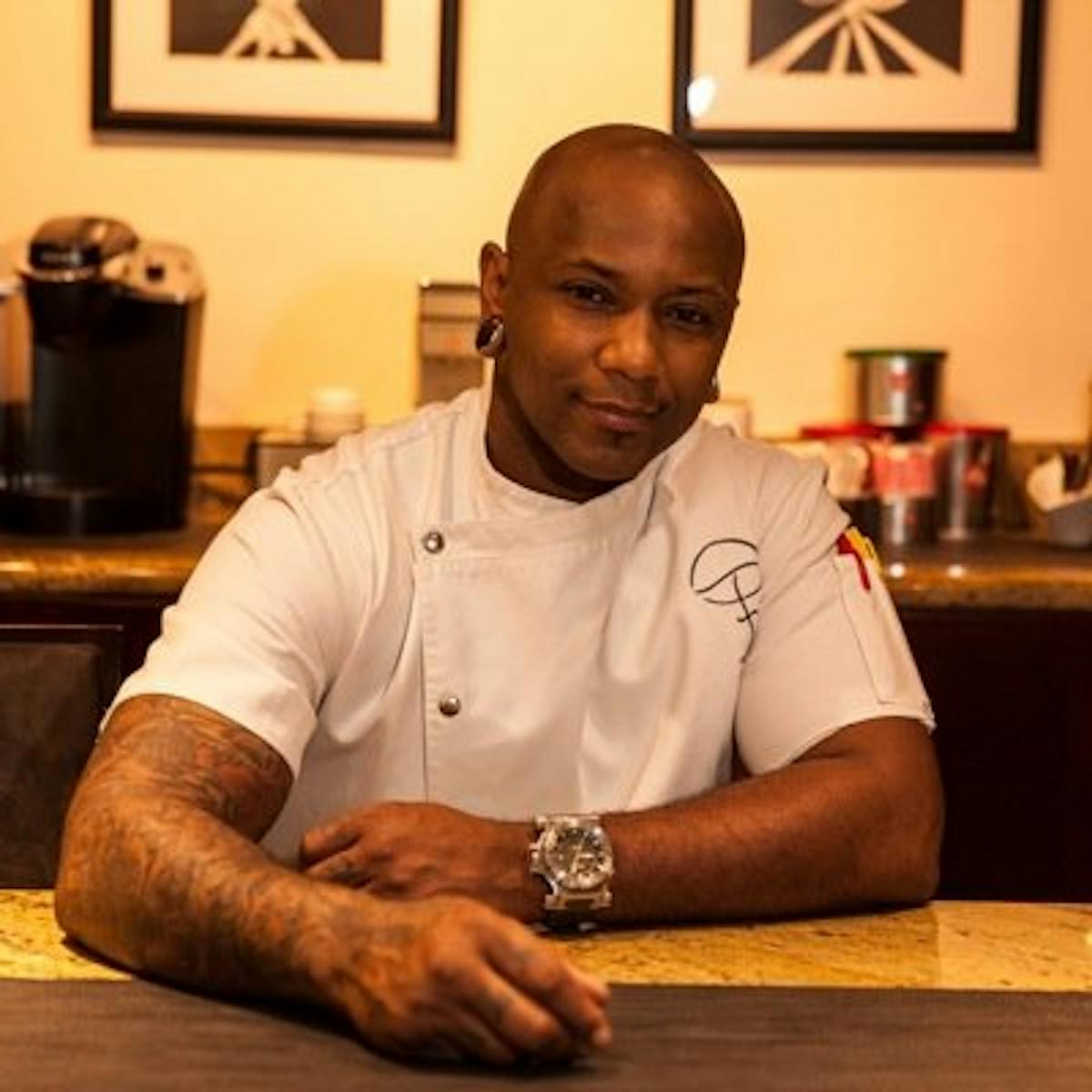 Shehu Fitzgerald
A first-class culinary professional, Shehu Fitzgerald has over 20 years of culinary experiences in award-winning establishments within the hospitality, food and beverage industry. Branching into TV, He was a top contender on Food Network's "Chopped Champs" as well as"Kitchen Crasher". Lastly, Shehu made multiple appearances as a contender on ABC's "The Taste".
Working in Europe, Southeast Asia, Australia and New Zealand Shehu blends a variety of cuisines into every dish he prepares. With his skillful approach to food, Shehu delivers an experience that embodies a refined aesthetic. His passion for food is showcased in his natural hospitality making sure each one of his guests has everything they need at any given moment.
dineDK is thrilled to be collaborating with Shehu and we are equally as excited for him to curate an experience with you.
Executive Chef Experience
Chef de Cuisine | The Plaza Hotel - New York City
Executive Chef | Renaissance Hotel - Newark, New Jersey
Executive Chef | Ritz Carlton Kapalua - Maui, Hawaii
Executive Chef | The Phunky Elephant Gastropub - Staten Island, New York
Sous Chef Experience
Executive Sous Chef I Park Lane Hotel - New York City
Senior Sous Chef | New York Marriott Marquis - New York City
Sous Chef | Ritz Carlton Battery Park - New York City
Sous Chef | The Fitzpatrick Grand Central Hotel - New York City
Sous Chef | Box Tree Restaurant - New York City
Sous Chef | Meritage Restaurant - Honolulu Hawaii
Sous Chef | The Beach House Restaurant - Auckland, New Zealand
Other Chef Experiences
Chef de Partie | Gibbston Valley Winery Restaurant - Central Otago, New Zealand
Chef de Partie | Skyline Luge - Queenstown, New Zealand
Chef de Partie | Essex House - New York City
Chef de Partie | Bank Restaurant and Bar - Birmingham, England
Chef de Partie | Hyatt Regency Birmingham - Birmingham, England
Chef de Partie | Les Célébrités Restaurant - New York City
Commis Chef | Hilton Brunswick and Towers - New Brunswick, New Jersey
Commis Chef | Bugaboo Creek Steak House - Warwick, Rhode Island
Commis Chef | Hyatt Regency Cambridge - Boston, Massachusetts